Material Selection for Transistors at the Scaling Limit
Although Si and Ge are the staples of semiconductor industry, many different materials are being considered for field effect transistor (FET) applications to boost performance. Examples include Si, Ge, III-Vs, carbon nanotubes (CNTs), and graphene. As the channel length drop below 10 nm, direct source-to-drain tunneling through the channel limits the OFF current for both standard FETs and TFETs. Therefore, a natural question arises:
"How well do different materials block the direct tunneling current in both n-type and p-type NW FETs or CNTFETs with actual 5 nm channels?"
We investigated a wide range of materials including Si, Ge, InAs, InSb, InP, GaAs, GaN nanowires and CNTs with varying diameters  to compare their ability in blocking the tunnel current at the 5-nm length scale.  We found that, overall, Si gives the lowest tunnel current for electron and hole tunneling.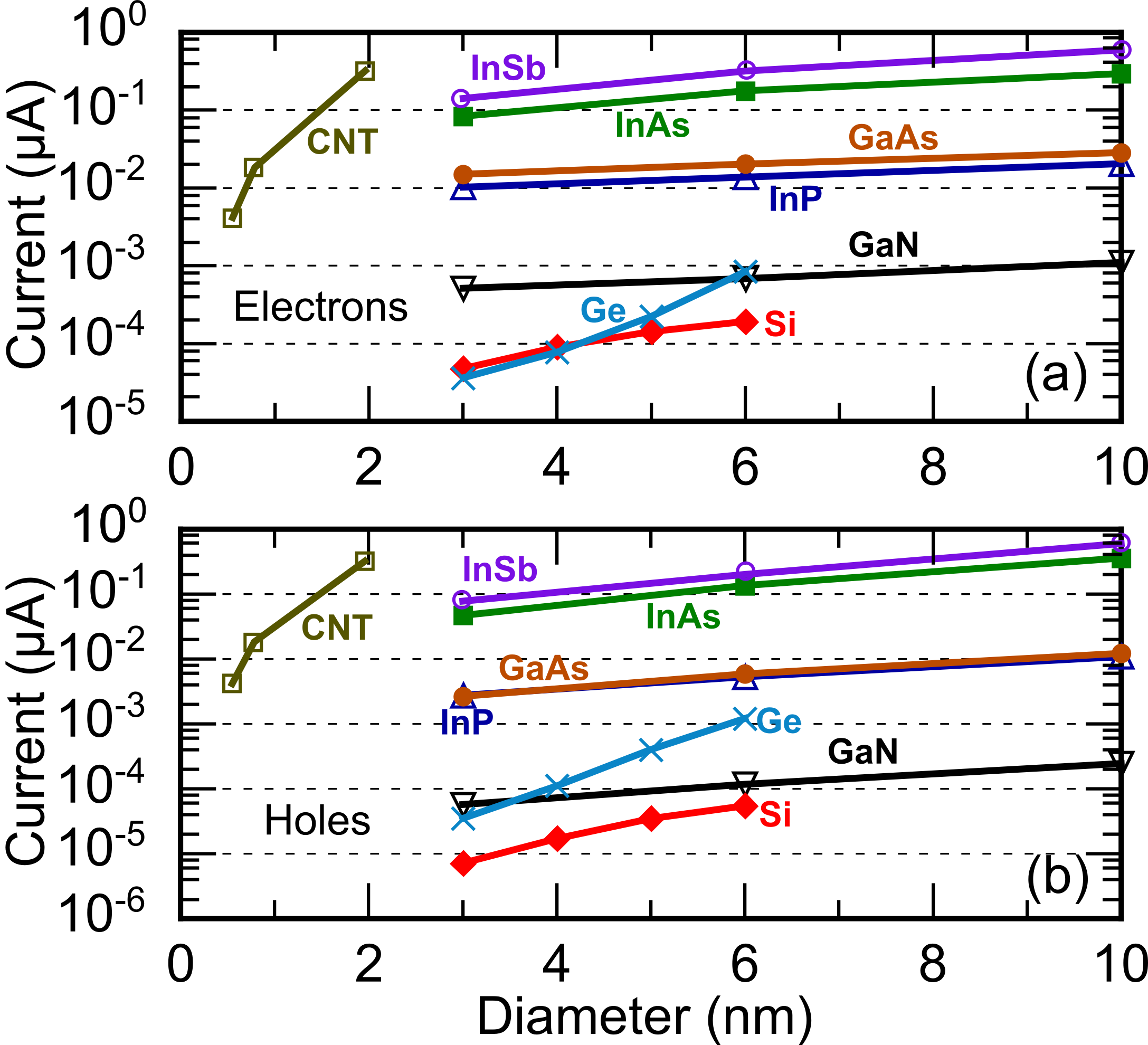 Tunneling currents are determined by the attenuation factor κ in the bandgap. Although κ  is the key parameter, most device people do not have an intuitive feel for quantitative values of κ. For example, what values of κ would be considered 'large' versus 'small' decay constants? Device people are, however, well-calibrated to values of the effective mass, and they do have an intuitive feel for what constitutes a 'heavy' mass versus a 'light' mass. Therefore, to compare the relative size of tunnel currents among different materials without performing expensive numerical simulation, we mapped the values of κ into a tunneling a effective mass m*. The larger the tunneling mass, the smaller the tunneling current and vice versa. Si has the heaviest tunnel mass and the lowest current.